The Incredible, Untold Story of Franklin From The Peanuts
Every once in a while, the world gives us proof that one person really can change the course of history. In this story, it's not a person – it's a comic strip character.
In 1968, Charles Schulz, the creator of the Peanuts comic strip, received a letter from a schoolteacher named Harriet Clickman. She wrote it on April 15, just eleven days after Martin Luther King Jr. was assassinated, asking him to introduce a Black character on the Peanuts who would be friends with Charlie Brown.
Schulz wrote back a few days later telling Harriet that he wanted to, but didn't want the character to be seen as a token way of patronizing the Black community. After corresponding back and forth, Schulz decided to create a Black character named Franklin.
This picture is the first time he met Charlie Brown. It was on a beach, in public, with the two of them building a sandcastle. During the 60s, many public locations including beaches were segregated. When they met, Franklin explained that his father was a soldier fighting in Vietnam, and Charlie Brown replied that his dad was also a veteran. By showing Charlie Brown, who was white, and Franklin, who was black, both together in the same place as children, Charles Schulz was making a statement. It was as simple as it was profound: In America, everyone belonged.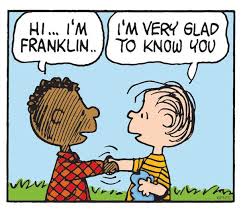 It wasn't long before Schulz began to receive hate mail. One of his comic strips showed Franklin sitting in front of Peppermint Patty in school. Schulz drew it during a time when schools were fighting against de-segregation. One southern newspaper editor even wrote to him and said "I don't mind you having a black character, but please don't show them in school together." Through it all, Schulz never wavered and kept Franklin as a beloved member of the Peanuts gang.
At one point, the criticism was so severe that Schulz' own boss approached him and asked him to change the character.
"Either you print it just the way I draw it," Schulz replied, "or I quit. How's that?"
Over the years, Franklin became an indispensable, equal part of the Peanuts gang. He played with the kids afterschool, became a great singer, and even danced in some of the animated specials. He also quoted from the New Testament and talked about his family history with Charlie Brown. It was all Charles M. Schulz' way of tackling racism head on.
The best part? He did it in a way that influenced generations of young children who grew up reading his comics. So in Charles M. Schulz' case, his pen really was the mightiest weapon of all.