How Bill Russell Changed the World for Good - Beyond Basketball
Today, the world is mourning the loss of a legend. Bill Russell is one of the greatest athletes in NBA history, passed away peacefully at the age of 88.
Unlike so many other athletes, Russell's contributions off the court are arguably even greater than his record-breaking career on it.
Here are five ways he changed the game - and the world - forever.
Taking A Stand
Bill Russell became a star in the NBA at a time when African Americans were routinely denied the right to education and the right to vote Standing at 6-foot-10, Russell stood tall against racism and used his position to fight it.
In 1961, Russell led a player protest and refused to play after several Black players on the Boston Celtics were denied service at the Phoenix Hotel coffee shop in Lexington, Kentucky, while they were in town to play the St. Louis Hawks.
"I don't think we ought to play," Russell told his four other Black Celtics teammates Sam Jones, Satch Sanders, K.C. Jones and Al Butler, who met with Russell in his hotel room. The Hawks' Black players joined them in protest as their white teammates played the game. When he returned to Boston, Russell told the media, "I will not play any place again under those circumstances."
Civil Rights Leader
In 1963, Russell fearlessly marched with Dr. Martin Luther King in Washington and in 1967 he was a vocal player at the Cleveland Summit, a meeting of influential Black athletes supporting Muhammad Ali.
At the time, Ali was the boxing heavyweight champion of the world, but faced intense backlash and public scrutiny over his refusal to be drafted for the Vietnam war. Facing jail time, Ali was joined by athletes including Russell, NFL stars Jim Brown and Bobby Mitchell, Lew Alcindor (now Kareem Abdul-Jabbar) and others, holding a press conference in Cleveland.
"It is the first time in four centuries that the American Negro can create his own history," Russell wrote in the 1960s. "To be part of this is one of the most significant things that can happen."
Breaking Barriers And Making History
In 1964, Russell's Celtics were the first NBA team to ever start five African-American players. Then, the NBA Legend made history in a whole new way.
Two years later, Russell became the head coach of the Celtics, and the first Black head coach in all four major sports leagues in the United States, doing so as a player-coach. He led Boston to two more titles as coach (winning 11 total) and was the first Black head coach to win an NBA championship.
A Leading Legacy That Will Last A Lifetime
As the racial justice movement swept America after George Floyd's death in 2020, NBA players took a leading role in using their platforms for change, with many joining protesters in cities around America. The actions of players in the NBA sparked a movement in professional sports around the world, following the lead of Russell all those years ago.
"Because of you, it is okay to be an activist and an athlete," Celtics guard Jaylen Brown said in a recent tribute video to Russell.
"Because of you, kids that look like you believe that they can win. Because of you, there is a standard for being a human being and being an athlete. Because of you, it is okay to be more than just a basketball player. Because of you, I am proud to be a Celtic."
As the world continues to remember Bill Russell, the five-time league MVP will forever be recognized as one of the most influential figures in sports history.
Greatness Recognized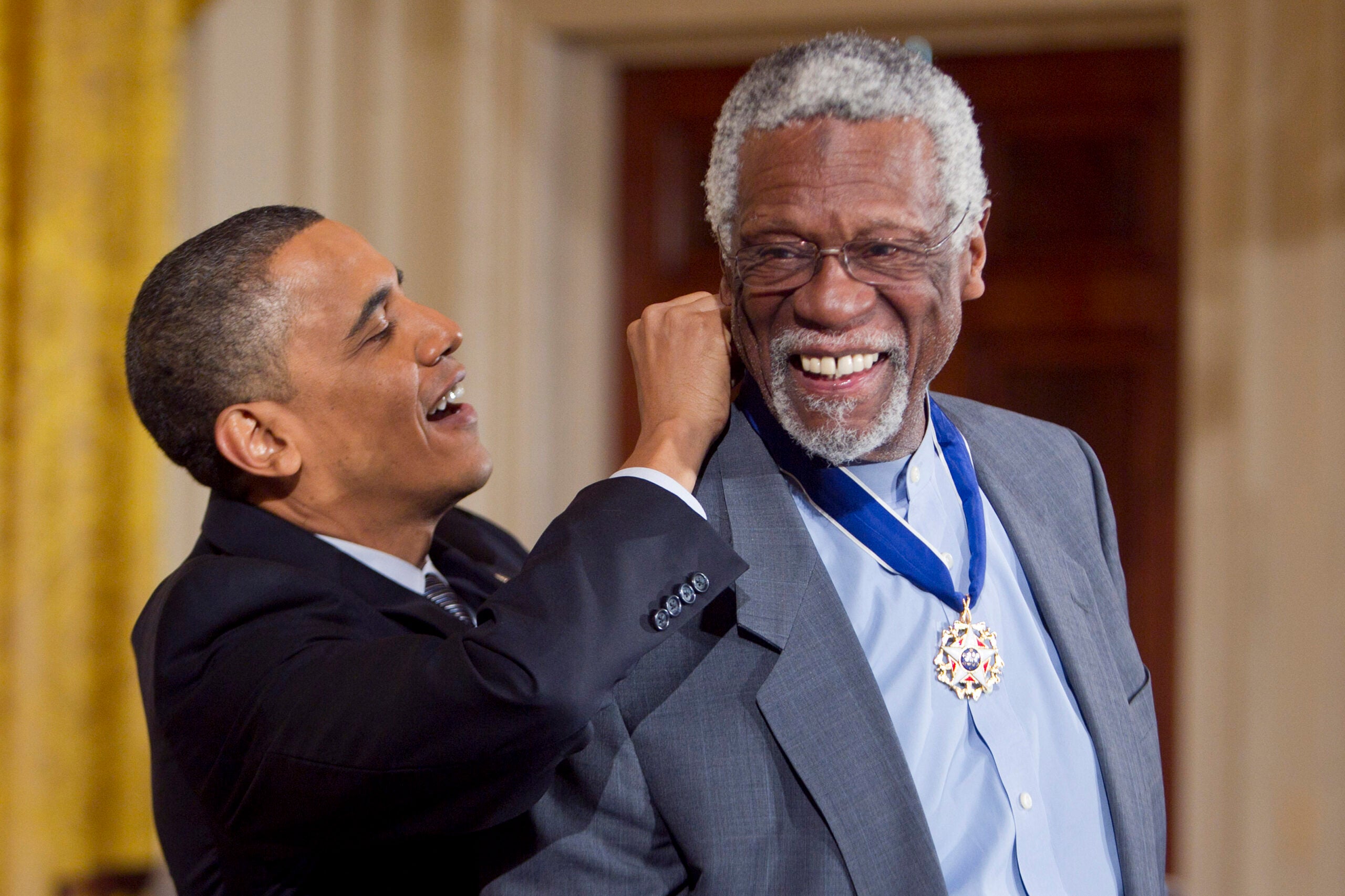 President Barack Obama awarded Russell the Presidential Medal of Freedom, the nation's highest civilian award, at the White House in 2011.
"He endured insults and vandalism, but he kept on focusing on making the teammates who he loved better players, and made possible the success of so many who would follow." said President Barack Obama. "And I hope that one day, in the streets of Boston, children will look up at a statue built not only to Bill Russell the player, but Bill Russell the man."