Meet The Heroes Saving Lives in The Kentucky Floods
Rescue teams are fighting mud and debris searching for survivors in Kentucky after torrential rain and historic flooding killed 37 people. While homes are swept away and thousands are without power, hundreds of ordinary people are doing whatever they can to help their neighbor. Rescue after rescue, Kentuckians are escaping with their lives, thanks to the generosity of strangers.
Here are just some of the heroic stories happening on the ground in Kentucky.
The Amburgey family made a desparate plea for help on Facebook as their 98-year-old grandmother, Uncle and Brother were trapped under 4 feet of water inside their home. By the time J.D. Griffen got there, the fast moving water was up to his shoulders. But that didn't stop him from risking his life to help the family. One by one, he took them out of the home through a window, delivering them to safety. All of them survived.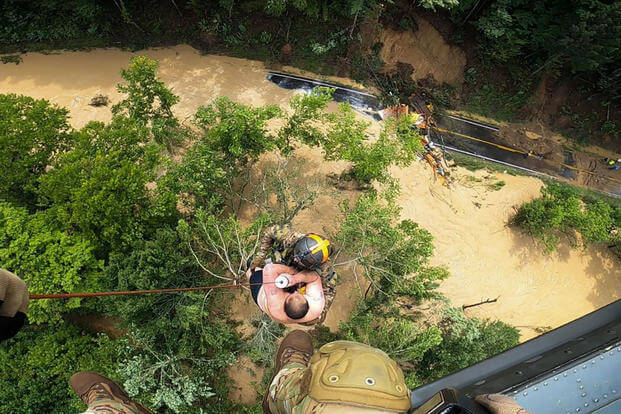 Over the past six days, rescuers are sacrificing sleep to search for survivors. This dramatic video shows The Kentucky National Guard lifting people to safety high above the flood waters. Flight crews were hoisting men, woman and children stranded on top of their homes, escaping the dangers water below. "It's exhilarating when you get to be there to help a family, to help a person in need, and to get them to safety," said the Squadron's Commander, Major Ian Williams."I think that's one silver lining in such an awful circumstance like this. The more we do it, the faster and better we get at getting to the people who need help."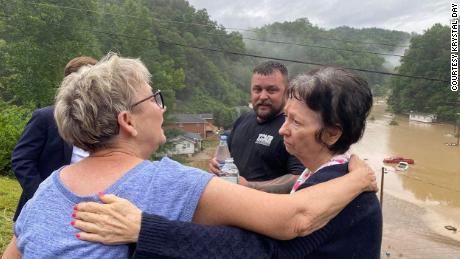 Nathan Day was getting his son ready for work when a neighbor asked him to save her grandchildren from rising floodwaters. The former coal miner waded through water to save five children and two mothers stuck on the roof of their home.
"At 3 o'clock in the morning, I was in that water with my wife. I put a child under each arm and one around my neck and took them back to my house. The oldest child was holding a small dog," Day told CNN.
But Day wasn't done. He and his wife set their sights on rescuing his former high school English teacher, Ella Prater, and his second grade teacher, Irma Gayheart, who both lived nearby. "I wasn't going to leave her there because she's a special lady to me. You could tell by looking at her face that she was drained," Day said. "She spent the night on the kitchen counter top and the water was up by the counter top."
Fifty stranded pups found homes in New York this weekend thanks to a local animal rescue. Muddy Paws in Hell's Kitchen sprung into action to help the lost dogs find permanent and temporary homes.
"It feels so good," Stephanie Cajucom said, who is fostering a puppy with Adam Lernihan. "We're excited to get our dog a friend for a couple of weeks," Lernihan told CBS New York.