Goodable's Greatest "Dad Moments" In Sports
Whether you're a professional athlete or a weekend warrior, Father's Day is the perfect time to show love and appreciation for the guy who sacrificed those early mornings for hockey practice or late nights for baseball games under the stars. In honor of Father's Day, we're taking a look at the most beautiful, unique, and inspirational "Dad Moments" in sports history.

Full-Circle for Tiger At The Masters
When a 21-year-old Tiger Woods burst onto the golf scene at the 1997 Masters, he was celebrated like a rockstar. After his 12-stroke victory at the most prestigious golf tournament in the world, Woods made a beeline for his father and immediately embraced him.
"It was just one of those moments where everyone melted away," Woods said in 2018. "And it was just me and my dad."
Two tumultuous decades later, Tiger returned to Augusta and completed the game's most remarkable comeback in an electrifying fashion. Now, instead of running into his father's arms, Tiger's first celebratory act was as a dad, lifting his son high into the air.
Father's Day Home Run For Dad
Baseball's light-hitting infielder, John Mcdonald, was known for his defensive skills more than his power. During his 16 seasons in Major League Baseball, he homered only 28 times. But on June 20th, 2010, Mcdonald hit maybe the most powerful home run in league history. That summer, John's father, Jack, was battling liver cancer. "Hit your next home run for me," Jack said, shortly before he died. And in his first at-bat since attending his father's funeral, Mcdonald hit a home run. The game just so happened to be on Father's Day.
Army Dad Surprises Daughter at Tampa Rays Baseball Game

If the last story didn't make your eyes water, this one will. Nine-year-old Alayna Adams threw out the first pitch before a Tampa Bay Rays-Boston Red Sox game in 2013. She was selected partially because her father, Lt. Col. Will Adams, had been deployed overseas in Afghanistan for most of the past two years. At least, that's what they told her. Because it turned out the whole thing was a ploy orchestrated by her dad who was, in fact, dressed in catcher's gear, crouching behind home plate, awaiting the throw from his daughter.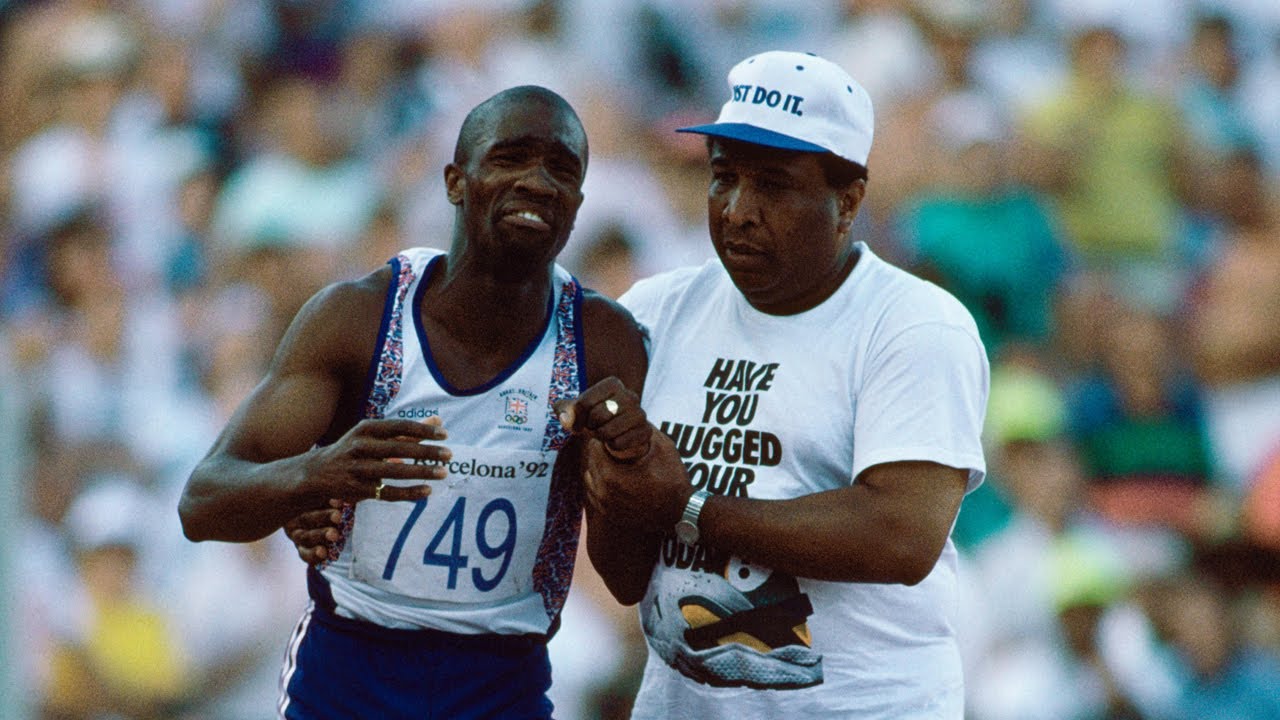 Derek Redmond's Iconic Olympic Father-Son Moment
Sprinter Derek Anthony Redmond fell short of his Olympic dreams in Barcelona. As the gun blasted to start the race, Redmond charged out of the blocks but quickly started limping in pain. His right hamstring snapped. The one-time British 400m record holder was crushed as his Olympic dream was over. He had promised himself and his father that he would finish the race 'no matter what,' and he would keep that promise. Halfway to the end on one leg and crying with desperation, Derek was joined by his father Jim. The moment Redmond crossed the finish line brought sixty-five thousand spectators to their feet in a standing ovation, many also in tears. No one can forget Derek Redmond's courage on the day he defined the essence of the human and Olympic spirit.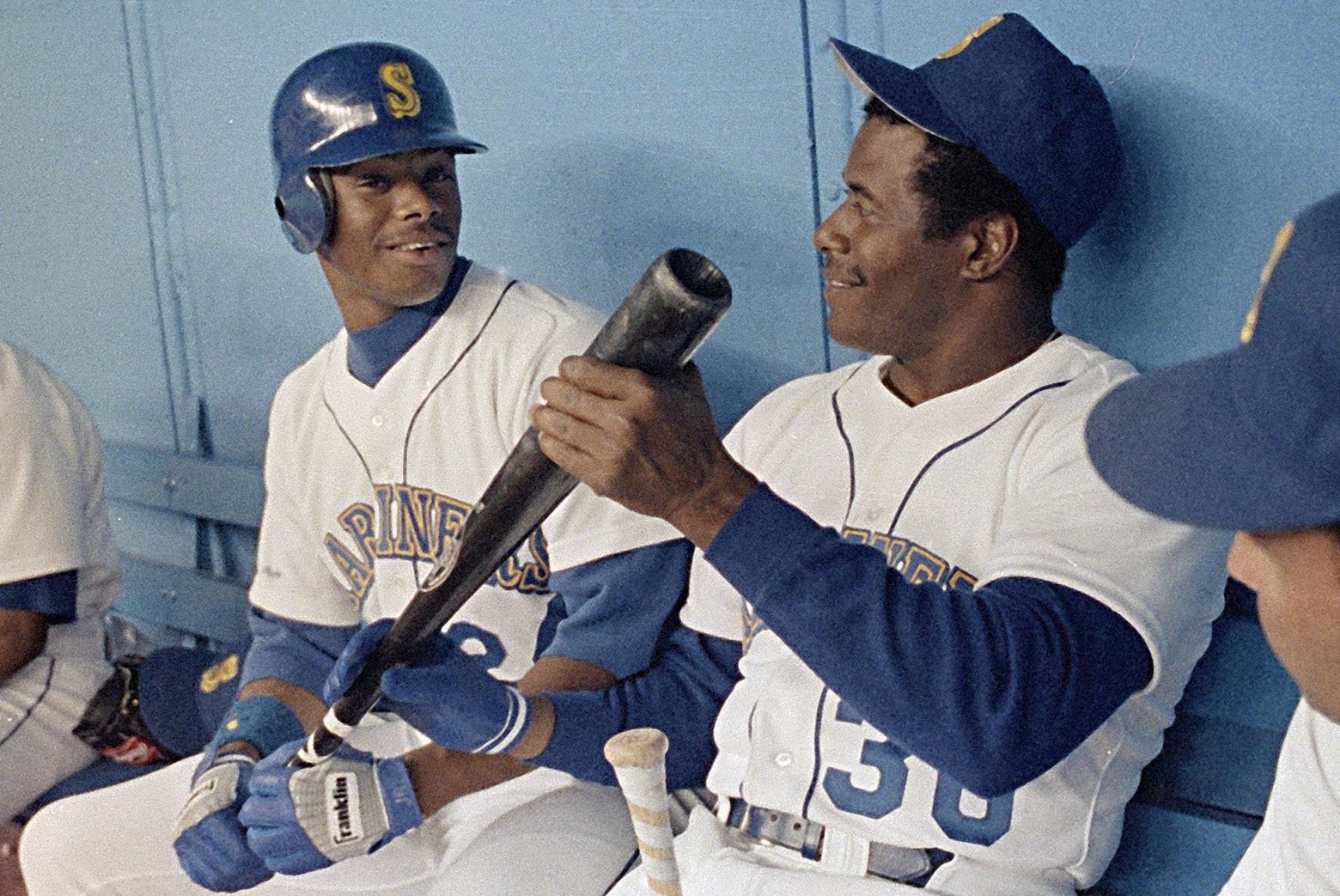 Ken Griffey Sr. and Jr. Hit Back-To-Back Home Runs
On Sept. 14, 1990, Ken Griffey Sr. and Ken Griffey Jr. suited up for the Seattle Mariners and became the only father-son duo to hit back-to-back home runs. They were also the first (and only) father-son duo to be in the same starting lineup. And if you need more father-son symmetry in a sport that has a deep love for stats…
Like Father, Like Son: Literally
Living up to the expectations of your father can be tough, but when your father is an MLB Hall of Famer, it can seem impossible to step out of that oversized shadow. Unless, of course, your name is Vladimir Guerrero Jr. Through their first 403 games, Vladdy Jr. and his dad, Vladimir Guerrero Sr., share bizarrely identical stats: Both have exactly the same number of home runs (87) and the same On-Base Percentage (.363).